Life Style
'Steak and jelly, please,' Americans tell Uber Eats — and other odd and popular customer requests of 2023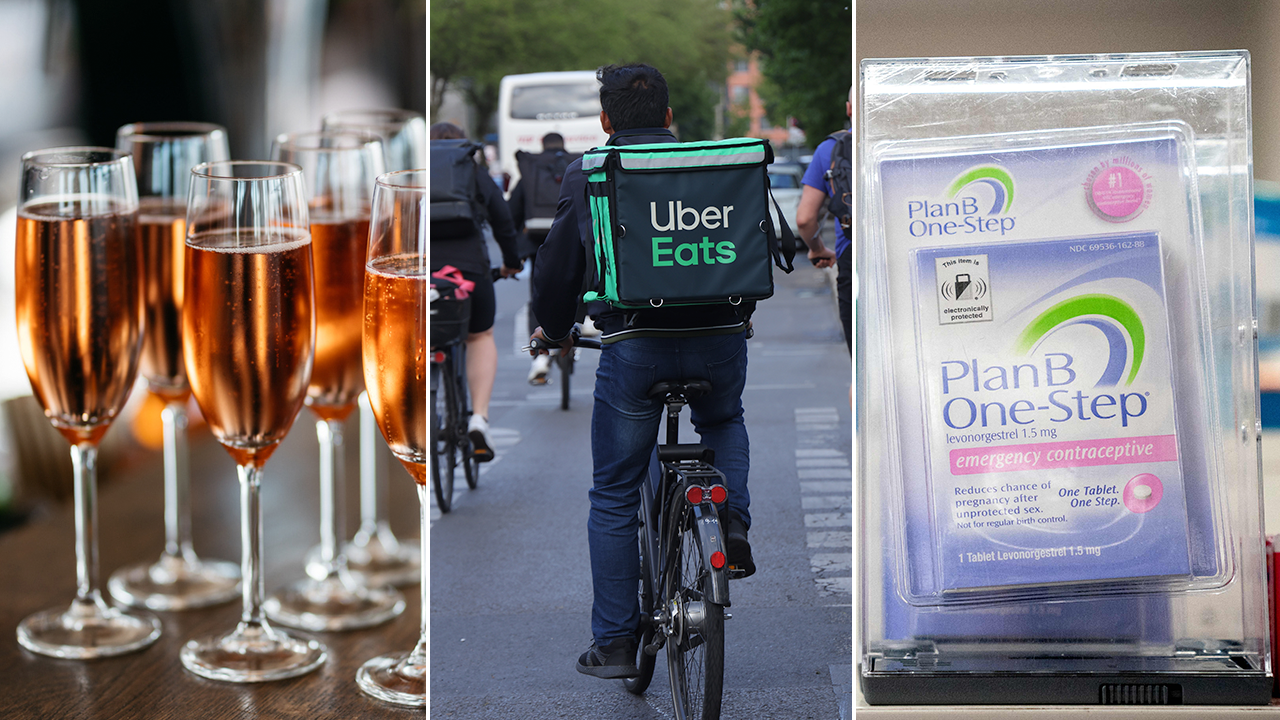 Americans have made some interesting requests from Uber Eats this year.
The food and drink delivery app has released its annual Uber Eats Cravings Report, revealing the most popular, unusual and surprising orders of the year.
Along with Uber Eats, other Uber-owned companies, such as Drizly and Postmates, have completed all kinds of orders.
'HOLD THE ONION,' AMERICANS TELL UBER EATS – AND OTHER FASCINATING FOOD FINDINGS OF 2022
"As the saying goes, 'Nothing tastes better than the thing you want to eat right now,'" Uber Eats senior data scientist Marco Vita wrote in a statement to Fox News Digital. 
Some of the unexpected requests have included combos like seaweed and pasta sauce, gobs of wild Gushers, or classy indulgences like lobster tail with apple-infused whiskey, Vita said.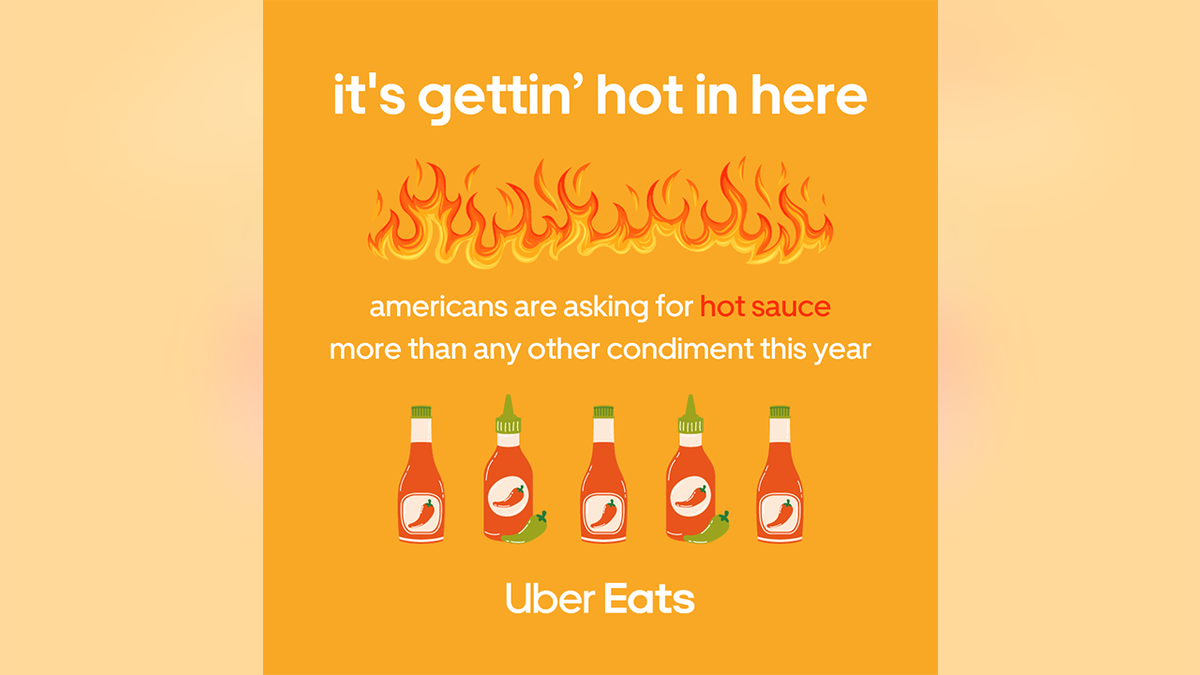 There was a decrease in rosé wine sales during the summer of 2023, the report revealed, with an apparent higher interest in lighter-bodied red and white wines.
Apple pie was the most frequently ordered dessert this year, with nearly two million of the items delivered nationwide.
Americans have routinely requested no onions on their food orders — while there was an increase in requests for hot sauce, which was the top condiment this year, per the report.
MOST ACCOMPLISHED DRIVERS SPOTLIGHTED BY UBER IN FIRST-EVER 'YEARBOOK'
Many Uber Eats customers ordered non-food items as well. 
Zero-proof beverages are also on the rise, especially during "dry" months like "dry January" and "sober October."
The top three were Scott unscented toilet paper, COVID-19 antigen home tests and the Plan B one-step emergency contraceptive.
Zero-proof beverages are also on the rise, according to data from Drizly, especially during "dry" months like "dry January" and "sober October."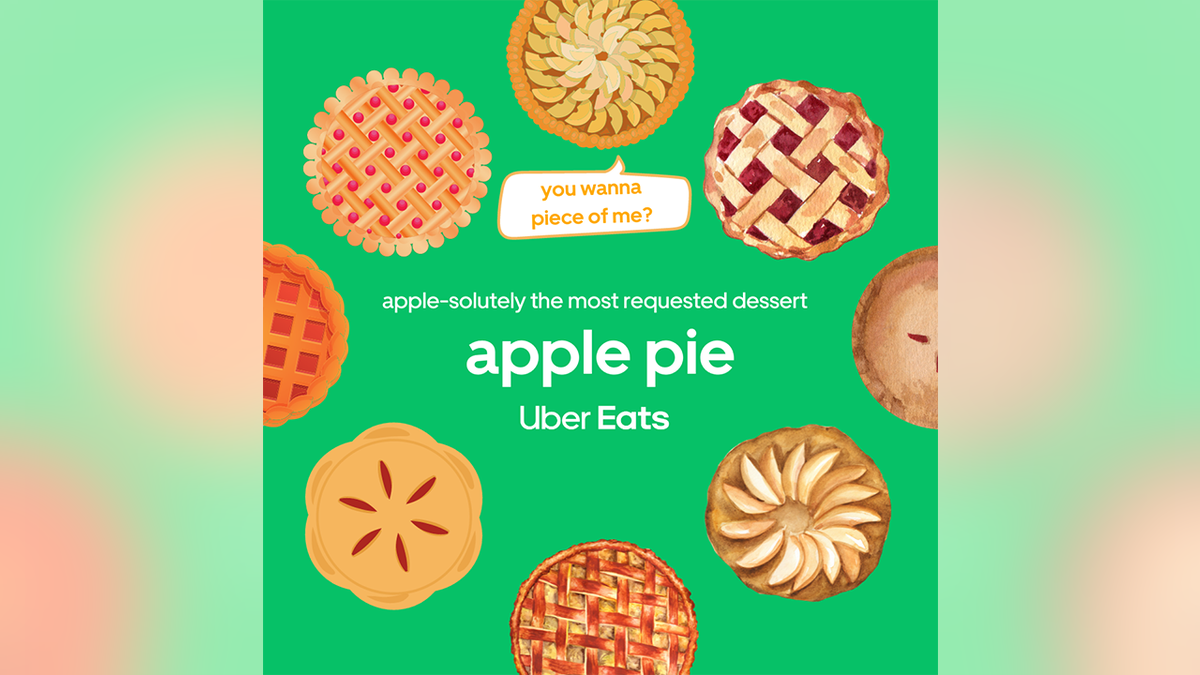 During January 2023, demand for non-alcoholic beverages spiked 75% compared to 2022.
The most popular candies ordered on Uber Eats were Reese's, Twix, Snickers, Peanut M&Ms and Hershey's Cookies 'N' Cream.
Munchies across the country
Late-night cravings are most prevalent on college campuses nationwide. Penn State University took the top spot for the most late-night orders on Uber Eats in 2023.
ATLANTA WOMAN SLURPS DOWN 48 OYSTERS IN VIRAL TIKTOK – DRIVING HER DATE TO DITCH THE TAB
The University of Iowa, University of Illinois and Texas A&M University followed Penn State's lead.
San Francisco, California; Richmond, Virginia; Detroit, Michigan; Bakersfield, California; and Charleston, South Carolina were considered the "most polite" cities, according to the report, since their customers say "please" and "thank you" the most in their order instructions.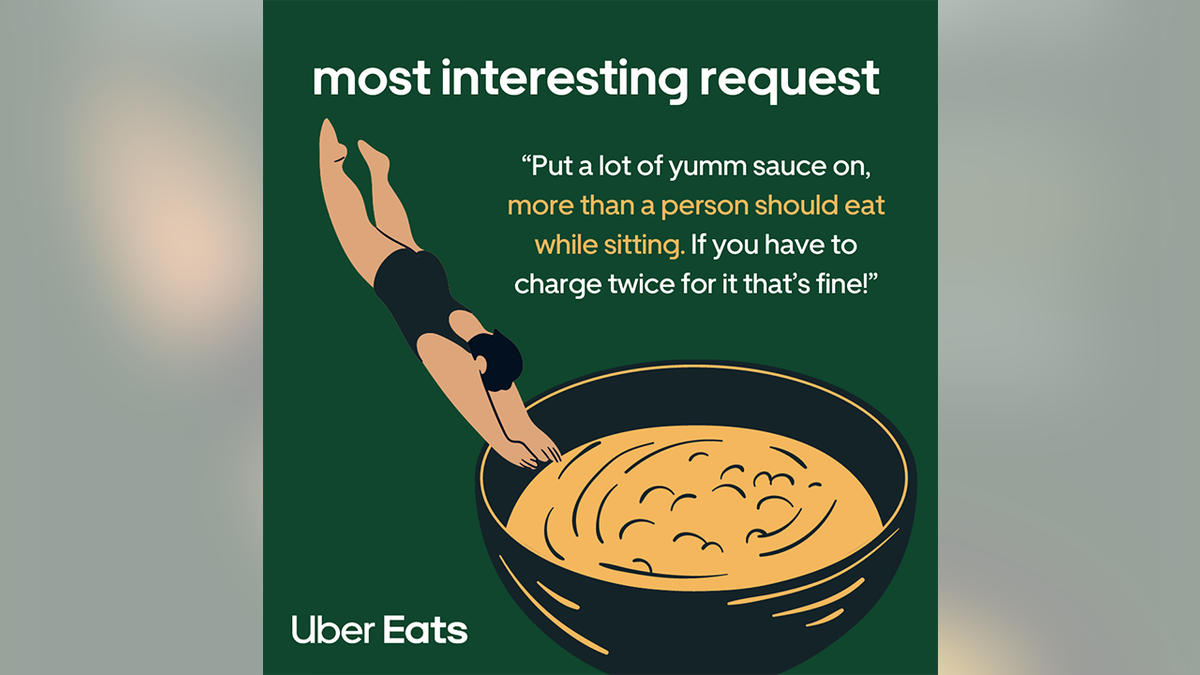 The most generous tippers came from Olympia, Washington; Asheville, North Carolina; and Bismarck, North Dakota.
Southerners in states including Kentucky, Louisiana, South Carolina, Georgia and Tennessee were most likely to order Reese's as their go-to candy.
PASTA QUIZ! HOW MUCH DO YOU KNOW ABOUT THE POPULAR FOOD AND TASTY CARB?
Meanwhile, customers in Alabama, Alaska, Hawaii, Vermont and Wyoming chose Nerds the most.
Kit Kat bars were the most-ordered candy in Arizona and Delaware.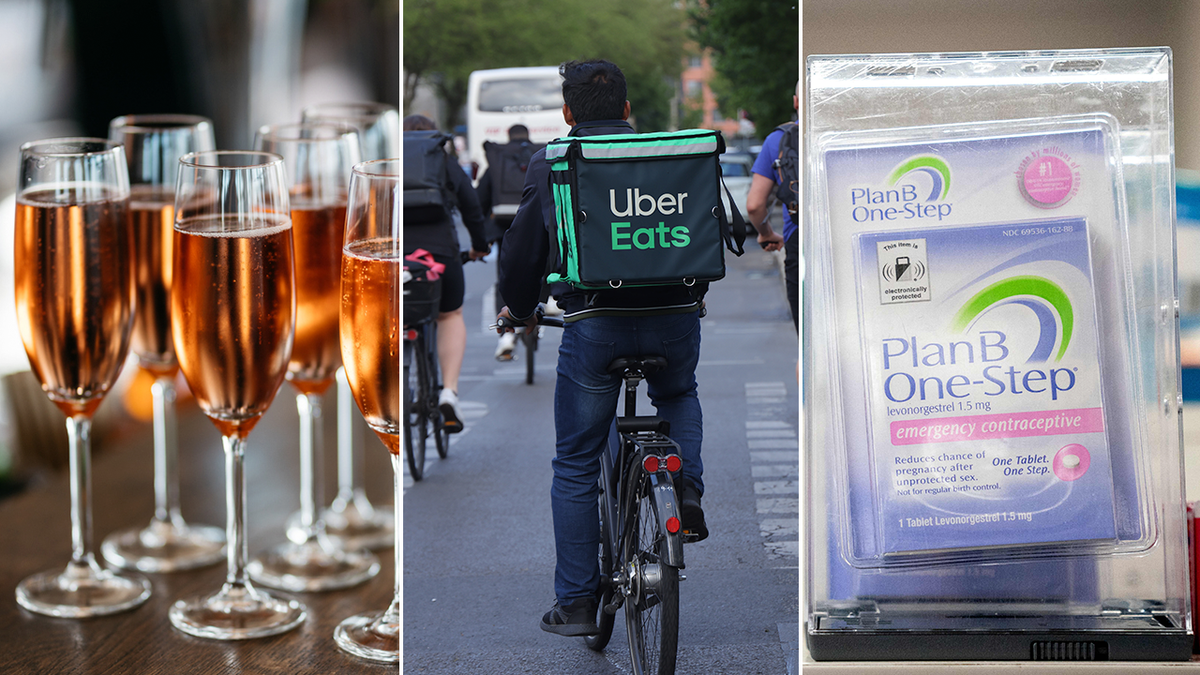 Top delivery requests
These are the top 10 delivery requests across the U.S., according to the company:
No onions
Dressing on the side
Ranch
Extra soy sauce
Spicy
Sauce on the side
No lettuce
No jalapeños
Extra gravy
No slaw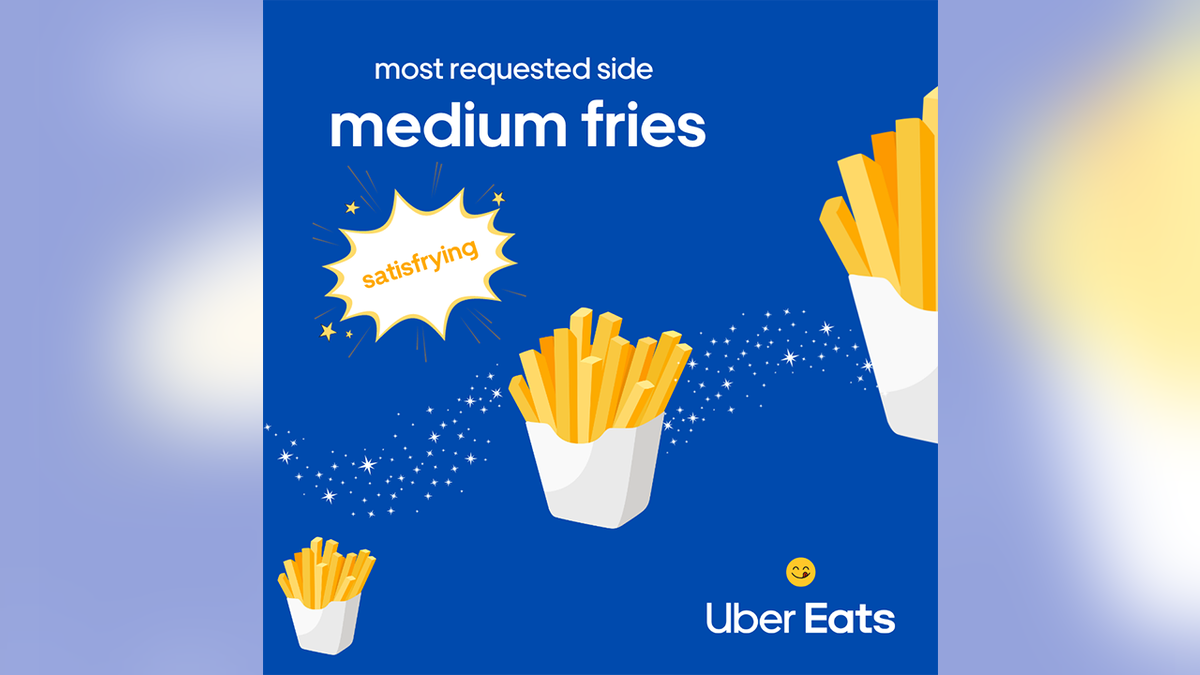 Some requests were unexpected and just plain strange. 
These include the following:
Steak + jelly
Cottage cheese + mustard
Condensed milk + avocado
Seaweed + pasta sauce
Butter + pickled onions
CLICK HERE TO SIGN UP FOR OUR LIFESTYLE NEWSLETTER
The top five most-ordered food items on Uber Eats were French fries, garlic naan, Pad Thai, Miso soup and California rolls.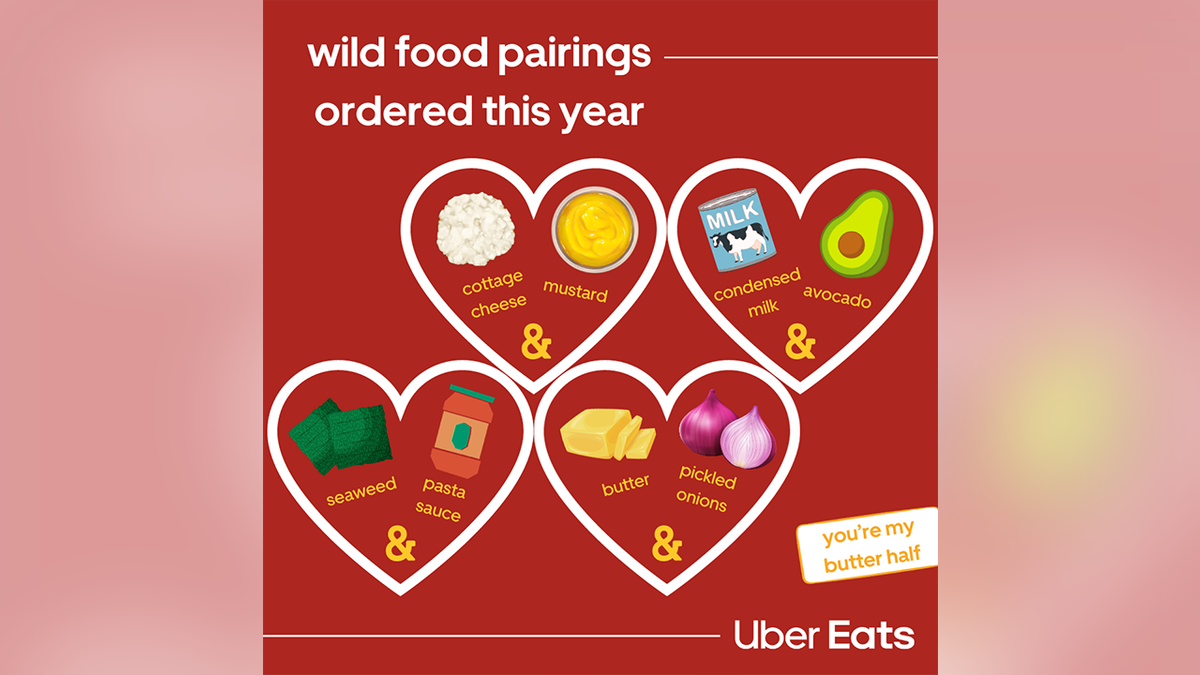 The most popular delivery combos include burrito bowl and cheese, French fries and salt, chicken sandwich and shredded lettuce, cheeseburger and mustard, and wings and ranch.
CLICK HERE TO GET THE FOX NEWS APP
Some interesting food and drink pairings also made the list, including these match-ups:
Ribeye + vodka
Cheeseburger + frozen margarita
Chicken + frozen piña colada
Lobster tail + apple whiskey
Tamales + daiquiris
For more Lifestyle articles, visit www.foxnews.com/lifestyle.