Life Style
'Ooey-gooey no-bake s'mores' is a play on a nostalgic treat: Try the recipe
Family, friends, a campfire and roasting marshmallows on a stick – that's the good life. 
But sometimes, you don't have enough time to make a big batch of s'mores the old-fashioned way.
MILLION DOLLAR BARS: AN EASY DESSERT RECIPE MADE WITH CHOCOLATE, CARAMEL AND COOKIES
Enter this s'mores recipe from Wisconsin-based cookbook author Erin Clarke.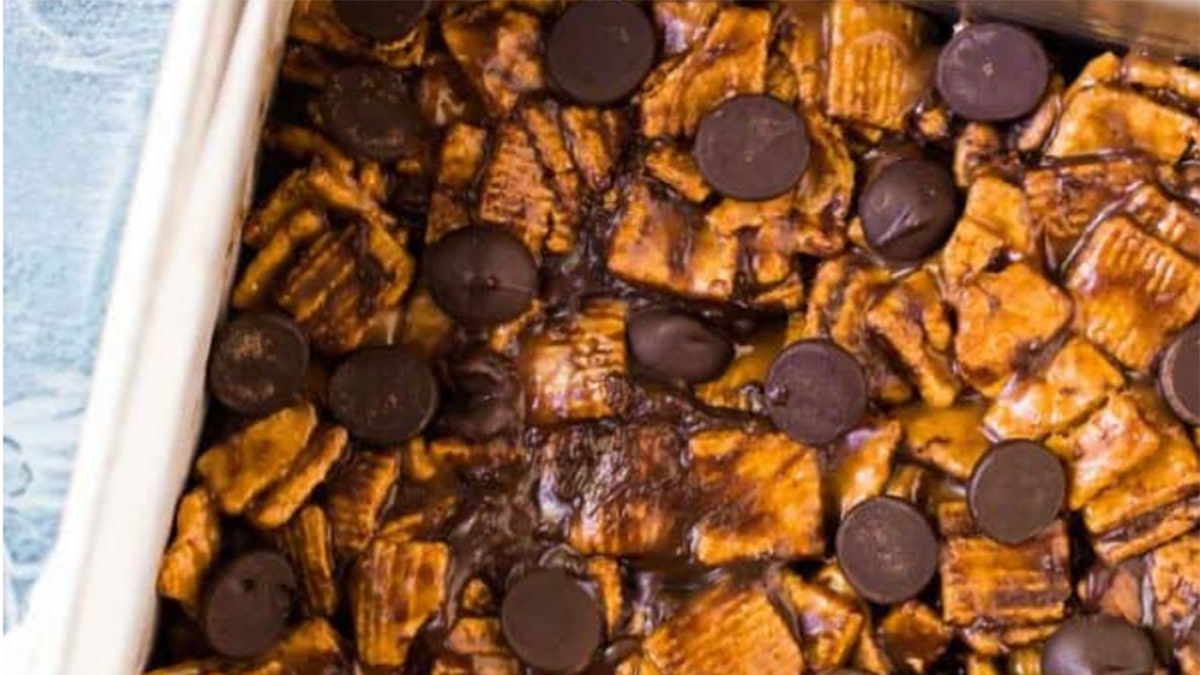 "These s'mores treats are a fun, unique mashup of some of my absolute favorite treats — s'mores, peanut butter cups and [crispy] treats," says Clarke of Well Plated. 
"It's an updated spin on a nostalgic dessert that takes me right back to my Girl Scout camp days," she adds. "If you love salty/sweet, you'll go crazy for these ooey-gooey no-bake s'mores." 
There's no campfire necessary, but from first bite to last, you may be taken back to the good old days of lakefront summer camp hangs and backyard sessions with loved ones. 
PEANUT BUTTER CUP MONKEY BREAD RECIPE GOES VIRAL: 'FAMILY FAVORITE'
S'mores Treats by Erin Clarke of Well Plated
Makes 16 servings
Prep time: 15 minutes
Cook time: 45 minutes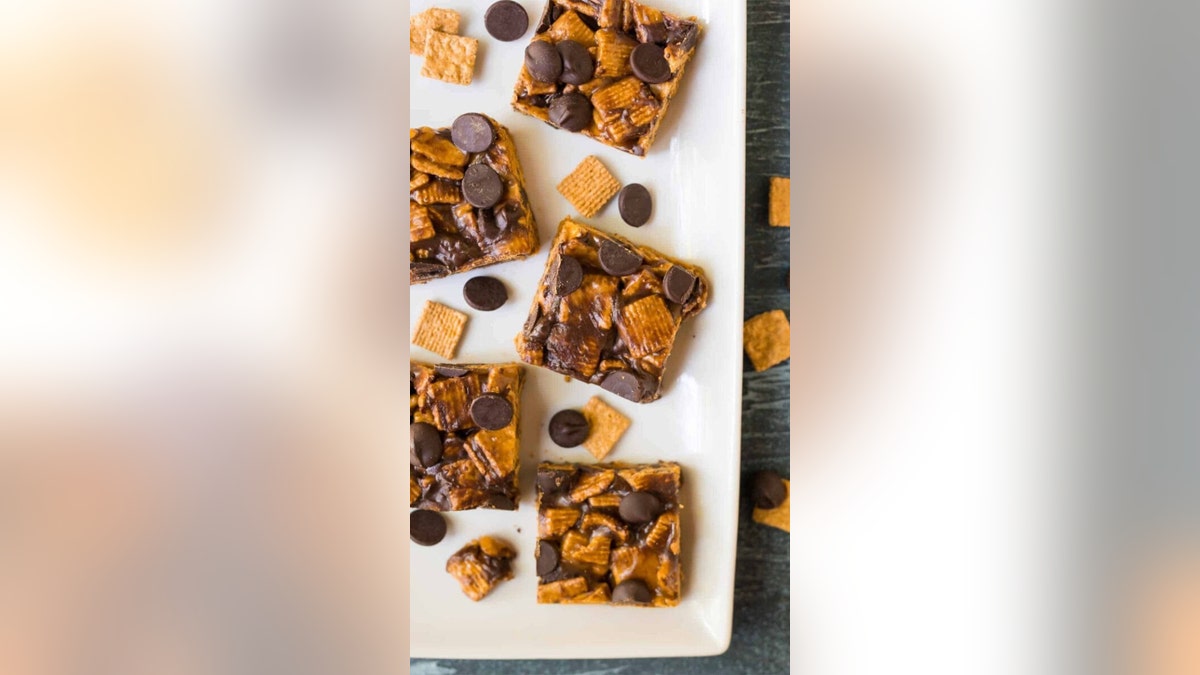 Ingredients:
1 cup dark chocolate chips mini or regular, divided
1/2 cup brown rice syrup
1/3 cup creamy peanut butter – Clarke recommends using the no-stir kind that can stay in the pantry; the refrigerated kind will be too oily and will not set properly.
1 tablespoon coconut oil
CLICK HERE TO SIGN UP FOR OUR LIFESTYLE NEWSLETTER
2 teaspoons pure vanilla extract
1/2 teaspoon kosher salt (be sure not to use table salt or the treats will be too salty)
3 cups graham cracker cereal such as Golden Grahams
Directions:
Place 1/2 cup of the chocolate chips in the freezer (this will help keep them from melting as messily when you mix them into the batter). Line an8×8-inch baking pan with aluminum foil or parchment paper, leaving some hanging over the sides like handles. Coat with nonstick spray. Set aside.
In a medium saucepan over medium heat, combine the brown rice syrup, peanut butter, and coconut oil. Stir and heat until smooth and creamy. Remove from heat and stir in the vanilla extract and salt, then the graham cracker cereal, stirring until the cereal is evenly coated. Quickly mix in the 1/2 cup of the chocolate chips that has been in the freezer.
Pour the mixture into the prepared baking pan. With your fingers or a rubber spatula coated with nonstick spray, firmly press the mixture into a tight, even layer. Sprinkle the remaining chocolate chips over the top. Place in the refrigerator for 30 minutes to set. Once cooled, remove the treats from the pan with the parchment or foil handles. Using a very sharp knife, cut into squares and serve.
CLICK HERE TO GET THE FOX NEWS APP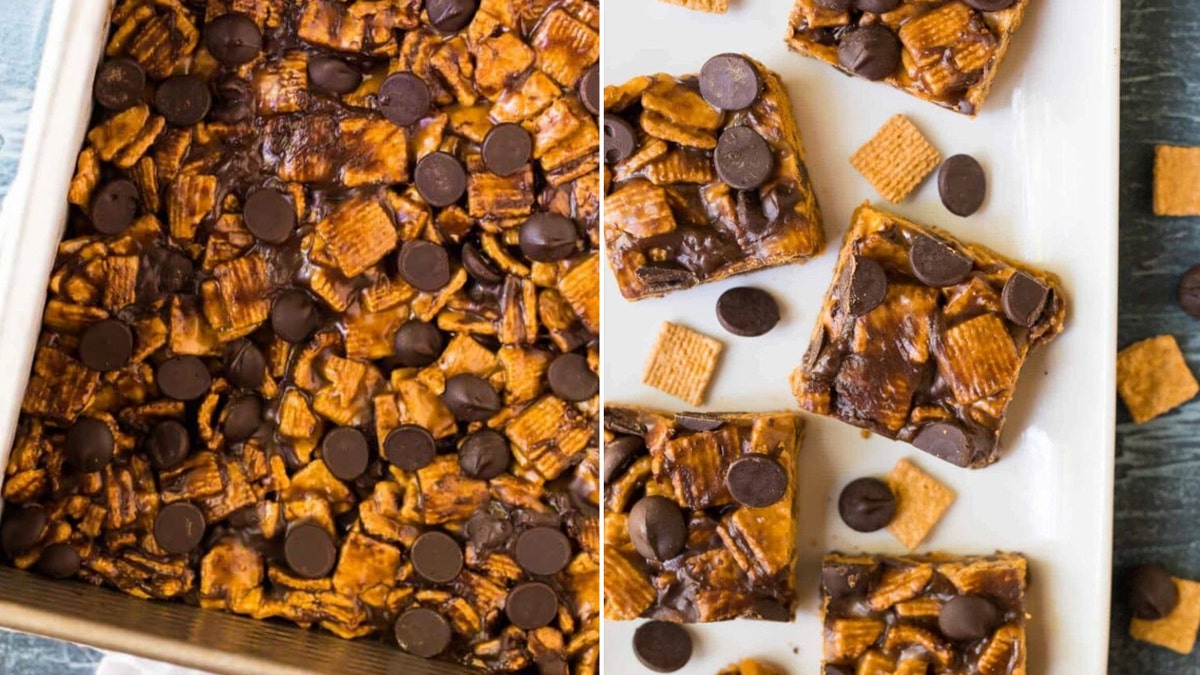 This original recipe is owned by WellPlated.com and was shared with Fox News Digital.
For more Lifestyle articles, visit www.foxnews.com/lifestyle.