Sports
LIVE UPDATES: Hangzhou Asian Games September 27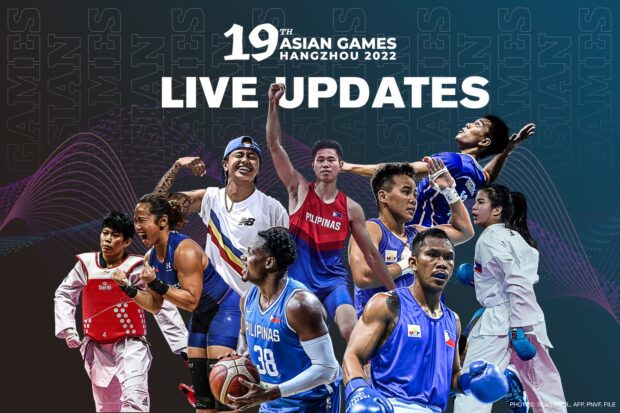 After failing to win a medal on Tuesday, the Team Philippines tries to put on a better showing in Hangzhou Asian Games 2022 in 2023 on Wednesday, September 27, in Hangzhou, China.
The Philippines has 396 athletes from 40 sports in this year's Asian Games.
TEAM PHILIPPINES SEPTEMBER 27 SCHEDULE OF EVENTS
Whatever worries national coach Tim Cone had for Gilas Pilipinas in their opening game in the 19th Asian Games in China turned out to be baseless on Tuesday.
The Philippines played with sustained brilliance and found very little resistance in its 89-61 thrashing of Bahrain at Hangzhou Olympic Sports Center Gymnasium for a rousing start in the continental showcase.
HANGZHOU, CHINA—After getting wind of the news that his weight class got ditched by Paris Olympic organizers, Carlo Paalam instantly knew the uncertainty that lay ahead.
"I cannot really tell what my chances are. I'll just try to do my best, because we don't know how the judges will score each fight,'' said Paalam in Filipino.
HANGZHOU, CHINA—Alex Eala has approached the 19th Asian Games (Asiad) here with guarded optimism with too many possible pitfalls in a tournament brimful of world-quality competitors.
With a trip to the 2024 Paris Olympics attached to winning a gold medal, the 18-year-old Filipino tennis wonder would rather just stay the course, hoping to eventually reach the summit.
After another failed bid that overshadowed sinking another national mark, Kayla Noelle Sanchez just wants everyone to keep the faith.
"I hope you believe in me because I'm having the best time being able to represent the Philippines and be a leader of this team,'' said Sanchez, minutes after finishing fifth in the women's 100-meter freestyle finals of the 19th Asian Games (Asiad) on Tuesday night that kept the country still searching for its first gold medal here.

Read Next
Subscribe to INQUIRER PLUS to get access to The Philippine Daily Inquirer & other 70+ titles, share up to 5 gadgets, listen to the news, download as early as 4am & share articles on social media. Call 896 6000.