Sports
LIVE UPDATES: Hangzhou Asian Games September 26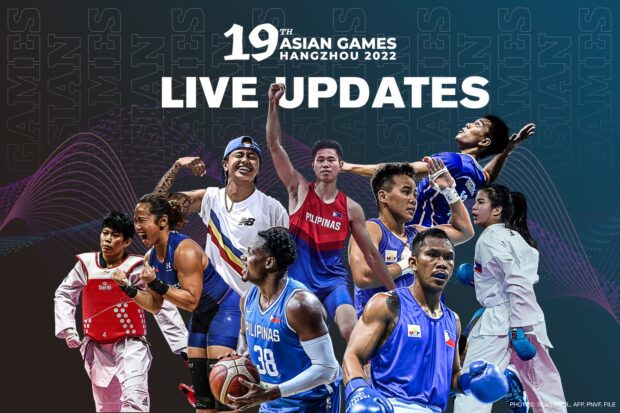 The competition continues in the Hangzhou Asian Games 2022 in 2023 on Tuesday, September 26 in Hangzhou, China.
The Philippines has 396 athletes from 40 sports in this year's Asian Games.
Some of those seeing action for Team Philippines on Tuesday are Tokyo Olympian Margie Didal in skateboarding, the Philippine fencing bets, swimming medal hope Kayla Sanchez, tennis star Alex Eala and Gilas Pilipinas in men's basketball.
TEAM PHILIPPINES SEPTEMBER 26 SCHEDULE OF EVENTS
Jones Inso got a share of the limelight in wushu men's taijiquan-taijijian all-around on Monday, generating another bronze medal for the Philippines in the 19th Asian Games (Asiad) where one medal bet suffered an unexpected loss in the pool but vowed to bounce back.
The 26-year-old veteran taolu specialist Inso clinched the podium spot behind China's Gao Haonan and Hong Kong's Hui Tak Yan with a combined effort of 9.746 points in the taijiquan event and 9.470 in the taijijian discipline.
CJ Perez barely saw action in the Fiba World Cup, but the spitfire guard hardly sees that as a reason not to heed another call from the Gilas Pilipinas program.
One of four late PBA standouts tapped by interim management as contingency measures for the 19th Asian Games, Perez cut short his vacation to join the training squad during its short camp at Inspire Sports Academy in Laguna.
HANGZHOU, CHINA—Prized pug Eumir Marcial sets out on a clear mission on his farewell Olympic bid with the path toward that goal anything but easy.
As Marcial goes deeper into his 19th Asian Games (Asiad) campaign where success means an automatic qualification next year for the Paris Olympics, the veteran knows that the road to the glitzy fashion capital for the summer Games will get bumpier.
The Tokyo Olympics middleweight bronze medalist, forced to fight in a heavier weight at 80 kilograms here, has to get Vietnam's Nguyen Manh Cuong out of the way in their quarterfinals duel on Tuesday at Hangzhou Gymnasium.

Read Next
Subscribe to INQUIRER PLUS to get access to The Philippine Daily Inquirer & other 70+ titles, share up to 5 gadgets, listen to the news, download as early as 4am & share articles on social media. Call 896 6000.