News
Kashmir is soon set to get Vande Bharat express train on the Jammu-Srinagar route
We are going to talk about the Vande Bharat train. We all are aware of this name. Now the reports are coming that Vande Bharat train to soon run in Kashmir. According to Railway Minister Ashwini Vaishnaw, Kashmir is soon set to get Vande Bharat express train on the Jammu-Srinagar route. This news is very exciting for the residents there. They are very happy with this news because they were waiting for this moment. What will it take place? What is the entire matter? We will try to cover all the details about the news. Let's continue the article.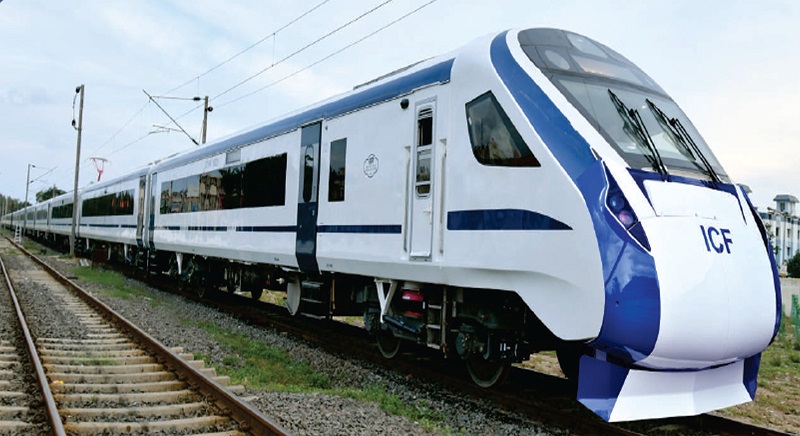 Vande Bharat Express Train On Jammu-Srinagar Route
On the basis of the report, Vaishnaw shared that the Srinagar railway line is going to be completed and then  Vande Bharat will also be run on that. He also shared that the train has been designed in a different way so that they go with this very smoothy in those temperatures and altitudes. Now, people are trying to know the date and time for this starting of train. What will take place? How much time remains? Get the answer in the next section of the article.
There is no update regarding the launching time. However, the railway minister added that the Jammu-Srinagar railway line is going to start within this financial year. Apart from Kashmir, the railway Minister also said that the semi-high speed train will also be available for the people of Tripura once the railway line to the northeastern state gets electrified. This news is amazing for those people who were waiting for this time. Now, the time has come as they will be able to take benefit of this very soon. Scroll down the page to learn more information about the news, which you can get in the upcoming paragraph.
Furthermore, PM Modi is also showing his personal interest in this. According to the government, they are making plans to launch 75 Vande Bharat trains by March next year. They are also keen to run sleeper versions of the trains for long distances. On the other hand,  the Railway Minister flagged off two new trains on Thursday in the Northeast region and services have been extended for two others as well as initiated a Vistadome coach in the Budgam-Banihal train in Jammu and Kashmir. If we get any further details we will tell you first at the same site. Stay tuned for more updates.