Entertainment
Is There A Credits Scene In The Marvels? A Spoiler-Free Guide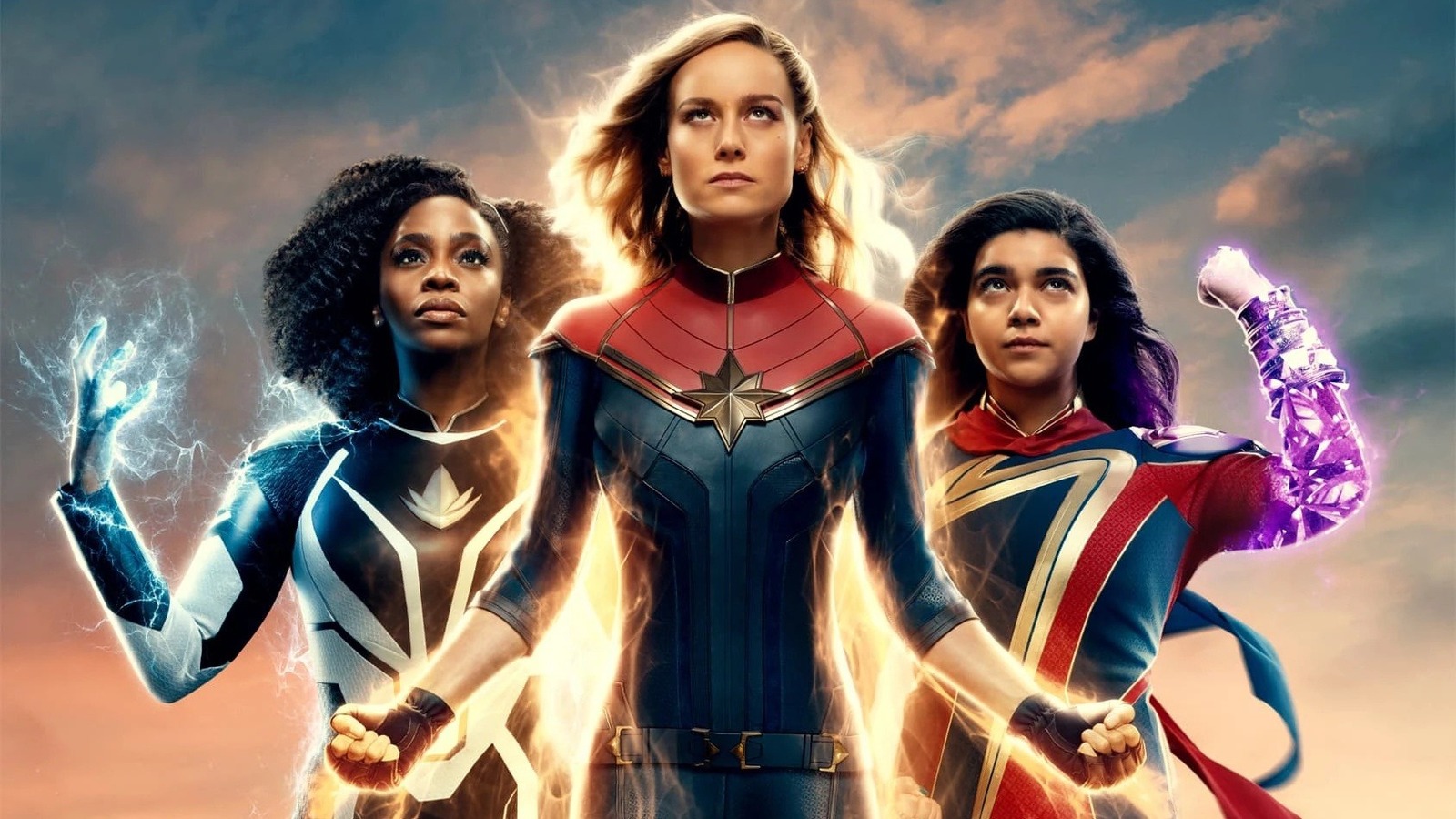 Marvel Studios
The Marvel Cinematic Universe is making its return to the big screen once again as "The Marvels" is hitting theaters. This not only serves as a sequel to 2019's "Captain Marvel," but it's also building on Disney+ shows like "WandaVision" and "Ms. Marvel" with a pair of new heroes joining Carol Danvers to form a new super team. Teyonah Parris and Iman Vellani are uniting with Brie Larson as Monica Rambeau and Kamala Khan, respectively. As the catchphrase goes: Higher, further, faster.
It should not be lost on MCU fans that this is the first new team we've been introduced to in some time. If we don't count the trio of Spider-Men at the end of "No Way Home," we would have to go back to "Eternals." That makes this an important film in Phase 5. But is it important enough to have a credits scene? That's what we're here to discuss! We are going to answer that question in a spoiler-free fashion. So fear not, as we are not here to ruin anything for anyone, just here to let you know what — if anything — makes it worth sticking around after the credits start rolling. Let's get into it.
Does The Marvels have a credits scene?
Marvel Studios
Yes, in keeping with MCU tradition, "The Marvels" does contain a credits scene. Crucially, it only has a mid-credits scene, so there is no need to sit through the entirety of the credits, but you are going to have to exercise a few minutes' worth of patience. Unlike many Marvel movies that have multiple scenes, there is no post-credits scene here. So once that mid-credits scene finishes up, that's pretty much it. Fans can feel good about making a break for the lobby at that time armed with everything they need to discuss what comes next for these characters.
How important is the scene?
Marvel Studios
As far as the importance this scene carries for the future of the MCU? Again, without spoiling anything, this is a very consequential scene. It's the sort of scene that sets the stage for things to come. It's not just a cute little tag like the shawarma scene from "The Avengers." This is a potentially big deal and something fans will want to discuss. So people who are invested in these characters and the larger franchise will absolutely want to stick around.
Nia DaCosta ("Candyman") is in the director's chair for the sequel. The cast also includes Zawe Ashton ("Velvet Buzzsaw"), Gary Lewis ("Gangs of New York"), Seo-Jun Park ("Parasite"), Zenobia Shroff ("The Big Sick"), Mohan Kapur ("Ms. Marvel"), Saagar Shaikh ("Ms. Marvel"), and Samuel L. Jackson ("Secret Invasion"). Megan McDonnell, DaCosta, Elissa Karasik, and Zeb Wells penned the screenplay. Louis D'Esposito, Victoria Alonso, Mary Livanos, and Matthew Jenkins are on board as executive producers.
"The Marvels" hits theaters on November 10, 2023. You can also check out the film's official synopsis below.
Carol Danvers AKA Captain Marvel has reclaimed her identity from the tyrannical Kree and taken revenge on the Supreme Intelligence. But unintended consequences see Carol shouldering the burden of a destabilized universe. When her duties send her to an anomalous wormhole linked to a Kree revolutionary, her powers become entangled with that of Jersey City super-fan Kamala Khan, aka Ms. Marvel, and Carol's estranged niece, now S.A.B.E.R. astronaut Captain Monica Rambeau.